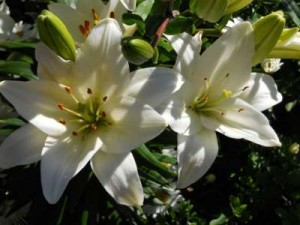 Today is Saturday. Specifically, the Saturday between Good Friday and Easter.
I had no appreciation for this date until I started going to The Good Shepherd, where a huge emphasis was placed on the Easter Vigil. It was drilled into my head that Easter Vigil was far more important than Easter Mass, an idea I accepted unquestioningly. The Good Shepherd is in Beverly Hills. There's a lot of money there, and at Easter the entire sanctuary would be festooned in flowers. It looked like something out of A Midsummer Night's Dream and smelled like heaven. I had mixed feelings about this – it felt like a waste of resources, but at the same time – it was so lovely, and so lovely to experience, it was hard to resent it too much. Easter Vigil was a dark, quiet affair, lasting until midnight. There was a lot I liked about the service. It wasn't comfortable. It wasn't meant to be comfortable. It was long. It required patience and reflection. At the very end, we each received a lit candle – a reward for our long, dark wait. Those little lights in the vast darkness felt like hope. And so they were – a flickering promise of Easter morning.
Here's the thing.
So many of us spend our life living this Saturday wait.
There are our Good Fridays – days where we experience trauma and loss – and then there are our Easter mornings – days of celebration, days where our impossible hopes are made real in the world. But for many of us, our lives are spent in Saturday, coping with the fallout from Good Friday, never reaching Easter morning.
Personally, I believe we reach Easter morning by surrendering to God's plan for us, whatever that might be. By going with the current of His will, instead of swimming against it with our own plans. Very often, what God wants for us is to be bigger, braver, bolder than what we are. We swim against the current by making ourselves smaller, by surrendering to fear, by not having faith in the idea that we were all wonderfully made. One of my favorite verses is in Matthew: Are not two sparrows sold for a penny? Yet not one of them will fall to the ground outside your Father's care. And even the very hairs of your head are all numbered. So don't be afraid; you are worth more than many sparrows.
Here's the other thing.
I have spent a lot of my life living the Saturday wait. I don't have life figured out – not by a long shot – but I will say I'm not waiting anymore. The difference is profound. To be fair, it would be massively hypocritical for me to claim any credit for the change. The turning points in my life were wholly outside of my control (my divorce, the sell of my book), and even though I recognized those turning points as opportunities, I still struggle to embrace the freedom I have to live my life fully realized. Nobody understood this curious desire to succumb to the darkness of the Saturday wait better than Dostoyevsky, who wrote, "Man is tormented by no greater anxiety than to find someone quickly to whom he can hand over that great gift of freedom with which the ill-fated creature is born." What can I say? Change is hard. Tossing aside our crutches is hard. Keeping the faith is hard. It's hard work to live as our authentic selves. But it's worth it to be brave, let go, and let God.
Happy Easter and peace be with all of you.