SUBTITLED: A Tale of Two Horses
Well, looks like American Pharoah <---the spelling on that drives me insane --- is for real. I haven't been a huge fan of American Pharoah for the following reasons. One, he's owned by Ahmed Zayat, who is a world class idiot. He's also super enthusiastic about horse racing and loves his horses more than a lot of owners, but he's an idiot. For example, back in 2009, Zayat decided to block Rachel Alexandra from entering the Preakness. Rachel had not been nominated to the Triple Crown, so he could have made that happen, had he entered all his nominated runners. His reasons were that Rachel hadn't had a rigorous schedule so it wasn't fair (not true), that the Triple Crown is a showcase for future stallions (?), and that, as a filly, she was more likely to break down, so he was saving us all from seeing her dead on the track. (Ugh.) Rachel, of course, won the 2009 Preakness. [caption id="attachment_1991" align="alignleft" width="300"]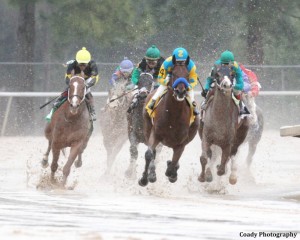 Do you see how darn cute this horse is? So happy turning for home! He's pretty adorable, you guys.[/caption]Two, Bob Baffert has been so high on this horse for so long, it just felt too over-the-top to be real. Even now, despite his absolutely sterling performances in the Rebel and Arkansas Derby, I still feel skeptical. (There's a link to the Arkansas Derby embedded in this article.) Perhaps more to the point, Baffert trains not just American Pharoah, but the other horse featured in this post, Dortmund. I've been a Dortmund fan from the get, and it's irritated me how Baffert has described American Pharoah as a supernatural being and Dortmund as rather ordinary. This has evened out since Dortmund won his last two races, but even so – I definitely feel like Dortmund received the Rodney Dangerfield treatment from Baffert.
Three, American Pharoah only has two races this year thanks to a suspensory-related injury. He's sound now, but I think it's tough to come into the Derby without having had a dogfight ahead of time. Both of his races have been ridiculously easy, so it's hard to say if he's gotten enough out of them. Also, especially with soft tissue injuries, I find myself just waiting for the other shoe to drop.
But I'll also say this – watching him glide over the mud in the Rebel Stakes turned me into a believer in his ability, and watching him canter home, happy as a lark, ears pricked, in the Arkansas Derby turned me into a fan of him as a horse. He loves his job and he's profoundly talented. He's a superstar – no doubt about it.
As already mentioned, the second horse in this tale of two horses is Dortmund. Dortmund likely doesn't have the raw talent and ability that American Pharoah has, but here are the three reasons why I love him. One, he has heart. He'll be undefeated going into the Derby. Undefeated horses stroll into the Derby here and again, very rarely do they win. Often, their undefeated record marks a lack of rigor in their prep races. That absence of conditioning usually shows up in the Derby, in the case of Dortmund's sire, Big Brown, it perhaps came into play in the Belmont. Dortmund is different. I don't think any undefeated horse has come into the Derby as battle tested as Dortmund. Watch him lose this race and then somehow find a way to win it again.
Two, I love his looks and athleticism. He's an enormous chestnut, standing over 17 hands. But for a big horse, he's nimble. He has stumbled coming out of the gate a couple of times, but he always rallies quickly. He runs straight and true, every time. Because he is so big, nobody is going to push him around in the wild stampede that is the Derby. However, big horses tend to suffer from getting blocked off and not being handy enough to avoid traffic. Baffert says Dortmund is a stop and go kind of horse, so maybe he's good enough to have that not be an issue. He's obviously a super sound horse, which is awesome. Just as great, he has a wonderful mind. He can win from way back or from the lead. He's so tractable jockey Martin Garcia can put him anywhere.
Three, I always root for the underdog. Granted, at this stage in the game he could possibly go off as the Derby favorite, so that doesn't make him much of an underdog. But his sire, Big Brown, has been a massive failure at stud. Until recently, Baffert talked about him like the redheaded stepchild of the barn. And maybe, just maybe, he's broken through to a whole new level. He clicked off his final eighth in the Santa Anita Derby in 12 seconds flat. That's FLYING and that's what you need to win the Derby – the ability to close. He's already won over the quirky Churchill Downs surface, so maybe he'll prove himself once and for all on the first Saturday in May.
I'll be honest, this year these are the only two horses I really care about. I also love a horse named Bolo, but he may not even get into the race. So, just know if Bolo wins, I'll be really happy. But for a great recap of the other top contenders, let me send you to this excellent summary of the horses to look for.